Donor Update, Wk. 6: Plans, Projects, and Pilgrimages
Sent 10 Jan 2023
Dear donors and friends,
This has been a week of much activity on the Odesa Humanitarian front. Despite Orthodox Christmas (January 7, with lovely singing in the Orthodox churches) and despite war, I have been privileged to be involved in many plans, projects, and pilgrimages. The plans are, in some ways, the most difficult part, because they involve conversations with all potential "stakeholders," as they say in the business world. Whether it concerns a potential humanitarian center in the Kherson region or the simple delivery of medicine to the psychiatric hospital, Dignity Aid International is dedicated to listening as many opinions as possible and striving for balance in the planning stage. Projects are easier, in some ways, as we simply have to execute the plans we've made — but of course there are always complications. Pilgrimages are the simplest: "there and back again," as Tolkien put it. But on the pilgrimages come the greatest adventures and the greatest learning. I shall explain all in a moment, but first, the accounting.
Budget
Of $3,993 collected so far, we've spent $1,502.49, receipts for which can be found on our website at the following link:
Thanks to the generosity of local and international volunteers helping with smaller expenses, the only expense this week was food for the Odesa Psychiatric Hospital patients, many of whom have been relocated from Kherson and other hard-hit regions, who continue to appreciate our consistent efforts to provide them with a little weekly cheer. I am so grateful to be involved in that project and for the kindness shown by nurses and staff at the hospital.
Activities
Monday and Tuesday were occupied with planning and executing a simple project to deliver a few walkers and some blankets to an elderly folks' home here in Odesa. Many of the individuals in the home come from Kherson and its surrounding villages, which were recently re-occupied by the Ukrainian military after being held for months by Russian troops. These individuals were unable to leave during the occupation, and now they have come to Odesa to receive medical care and be in a location where they can have more consistent power and heating. The coordinator of the home nearly started crying when she saw the supplies, and the residents seemed genuinely happy for the simple gifts we were able to provide: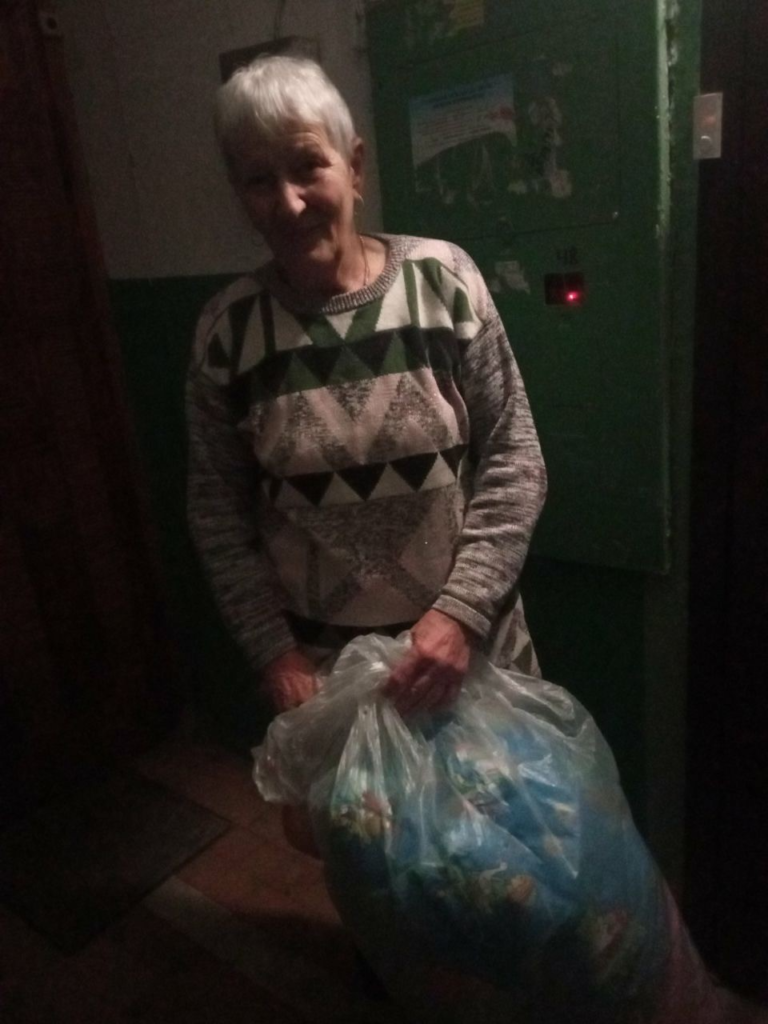 One moving experience came along with this simple delivery. It was with a volunteer from Kherson who now resides in Odesa. While we were waiting for a taxi, she pulled out her phone and showed me a picture. It was her, in a hospital, with her arm entirely covered in shrapnel wounds. Her home was shelled by Russian troops months ago, and she was in the hospital for weeks recovering. It broke my heart. But she brushed it off and hopped into the taxi, saying, in broken English, "We must continue." Slava Ukraini.
Wednesday was planning, primarily for our upcoming pilgrimage to Kherson on Friday. I am currently coordinating with two extraordinary volunteers from Germany who would like to establish a simple humanitarian center in that region. Due to security and logistics concerns, it requires many intense and detailed conversations with locals as well as between ourselves. But I am hopeful it will result in good things.
Thursday was beautiful. Absolutely unforgettable. Thanks to the generosity of those German volunteers, a group of children from the Kherson region were able to attend a children's play free of charge at the Odesa Academic Ukrainian Music and Drama Theatre. It was called Peppi. Being that the show was in Ukrainian, I didn't understand a word of it, yet I felt a powerful electric charge in that room for the entire hour and a half. As dancers twirled, as wheeled horses moved across the stage, as scrolls unfolded and staircases revolved and actors carried joy in their faces, the children were enraptured. After we helped distribute gifts to the children afterwards, we held a follow-up meeting with the deputy director of the theater. She had never seen such a grateful audience she said. And she appeared to mean it. I wouldn't be surprised if it were true.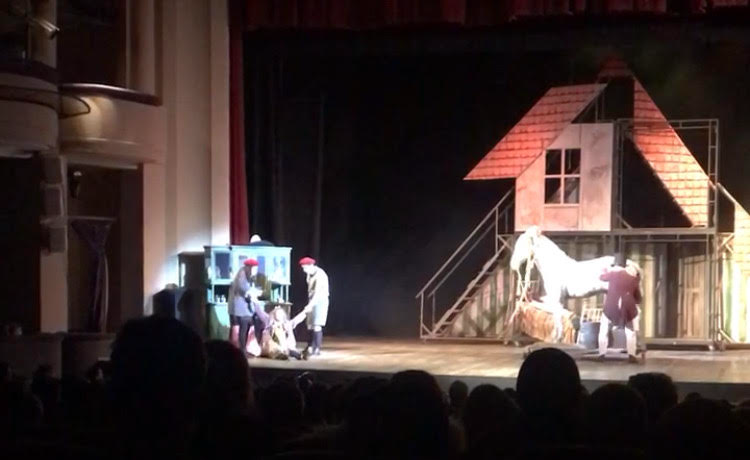 Friday was the pilgrimage. After dropping off humanitarian supplies in Kherson, which I had helped the German volunteers purchase and load the previous day, we headed to a small village called Dar'ivka, about 20 minutes northeast of Kherson. This town was occupied by Russian troops for months, yet despite that, administrators estimate that more than 80% of the pre-war population of 3,000 people remains. These stubborn village folk are determined to show the invaders that they will not be moved. We discussed ideas and locations for a humanitarian center in the area, to help the brave people survive. Then we headed home before nightfall to Odesa — to safety and peace, but not without heavy hearts. I hope to return soon.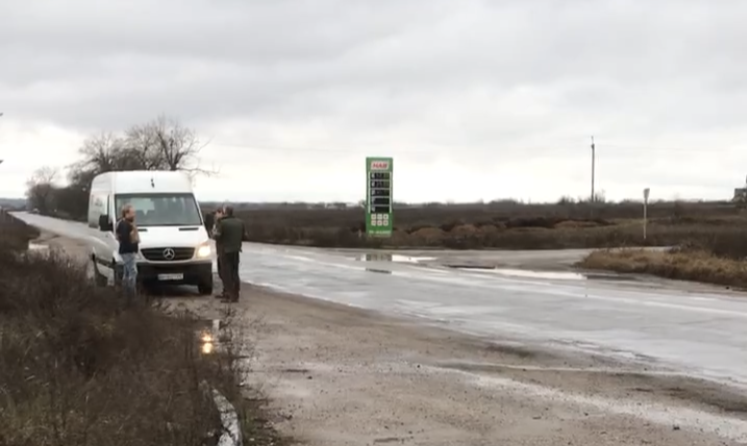 Saturday was our weekly distribution at the Odesa Psychiatric Hospital. We made our typical deliveries of cookies and fruit, but thanks to a special donation from Operation SafeDrop Ukraine, we were also able helped unload hundreds of boxes of medicine and food for the hospital to distribute to the patients. I've never seen a group of nurses so happy. They hugged us, smiled, said thank you over and over again, then set off with full trolleys to their various departments: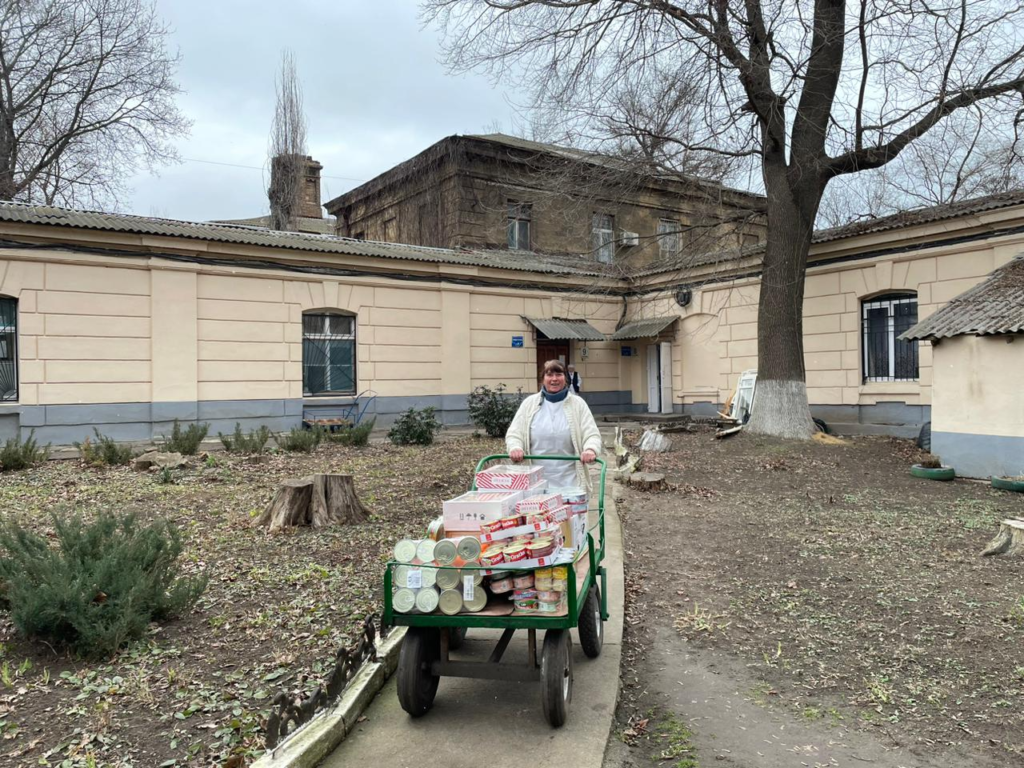 After a big day Saturday, I rested a little, then welcomed my friend and advisor Sean Angus MacKinnon to Odesa. He has years of experience in the humanitarian field, and it will be lovely to have him here helping with plans, projects, and pilgrimages. Onwards and upwards.
Dignity Aid Blog: Another Old Donor Update Online
Week 3's donor update has been posted on our website blog — you can find it at the following link. Feel free to share it as a link or to forward any of these emails.
Sending love to all. Thank you for all your support.
abe