Blog

August Donor Update: When the Dawn is Still Dark

"Faith is the bird that feels the light and sings when the dawn is still dark."
      - Rabindranath Tagore, 'Fireflies'
Dear Friends,
The homeland of Rabindranath Tagore lies thousands of miles from my current home in Ukraine, in the state of West Bengal, India. But by the strange threads which link all of humanity, I recently stumbled upon an excellent YouTube video about the Bengali people and was reminded of this extraordinary Nobel Prize winner, polymath, and poet. In a time when his homeland was occupied and oppressed by colonial forces, and had been for hundreds of years, Tagore sang when the dawn was still dark. Today, the peoples of both India and Bangladesh sing national anthems composed by his hand. True freedom and justice are still being fought for in that region, as in Ukraine and all around the world. But there are those who feel the light, and they are singing, and the chorus swells across the world—only a murmur now, but dawn approaches. I am grateful to each of you for your part in that song.
Dignity Aid International continued its efforts this month with a variety of activities in southern Ukraine, including volunteer coordination, cooking food, teaching English, supporting local NGOs, and more. I'll tell you all about it in a moment, but first, let's review the budget for the past month.
Budget Update
Of $9,379 collected ($6,483 on Fundly, $2,896 on PayPal), we have spent $8,158 (87%) on direct humanitarian aid to Ukrainian individuals and households affected by war. Donations this month primarily went to the Odesa Psychiatric Hospital, which is squeezed with staff shortages and refugee residents from Kherson and other war-torn areas of Ukraine. You can see a record of all payments, along with receipts for all purchases over $100, at this link:
9-Month Recap: $120,000 Mark Surpassed
Dignity Aid-affiliated volunteers have facilitated the distribution of aid worth more than $120,000 in collaboration with a variety of other actors in Ukraine. This includes, at a minimum:
$20,000 to the Odesa Psychiatric Hospital (food, mattresses, medicine, etc.) with Elena Oiberman, the Grassroots Hero Foundation, and others in the Charity Hospitals volunteer group
$15,000 to the community of Muzykivka (just a few months after it was liberated from occupying forces) in the form of a "free shop" containing hygiene items and building materials, with Karsten Fuhrken, The Merch Republic, Pelle Chan, and Help UA People
$50,000 to the community of Muzykivka in the form of hygiene kits and personal shopping trolleys with Gary Campbell and the International Medical Corps
$30,000 in cash assistance of $50-100 to households in Odesa displaced from their homes in Bakhmut etc. by war, with Bänz Margot, Human Front Aid, and Plich-o-plich (Side-by-side)
$5,000 to needy communities in Dnipro Oblast in the form of hygiene kits and Christmas packages, with Luke Maddox and the Good Samaritan Fund
Dignity Aid International has also facilitated the contribution of more than 2,000 hours of free labor in service of local organizations by international volunteers hailing from at least 7 different countries including France, Sweden, and Israel. The contacts established by my long stay in southern Ukraine have been crucial to those successes. As part of maintaining continuity in that effort, I have continued to draw the minimum possible stipend, which currently sits at about $124 per month (12% of donated funds). We will continue to work toward the 100% mark of donated funds going directly to humanitarian aid!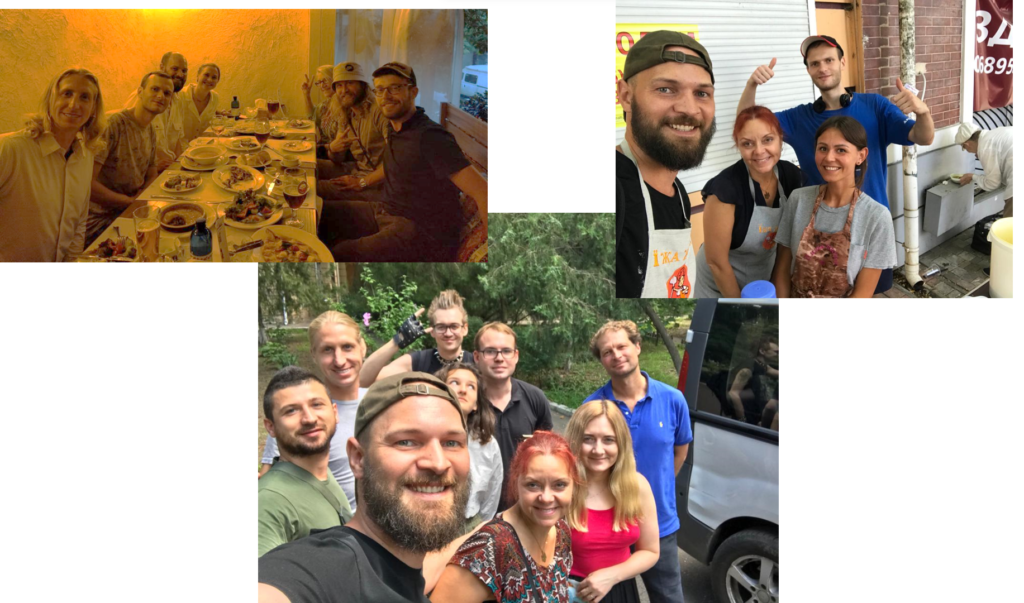 L: Volunteers Nick, Mykhailo, Abe, Maddy (my sister! she visited Odesa!), Victoria, Luke, and William at dinner
C: Top Row – Volunteers Nick (USA), Mark (UK), Till (Germany), Andreas (France); Bottom Row – Volunteers Dima (Ukraine), Abe (USA), Alexandra (Ukraine), Jannica (Sweden), Elena (Ukraine) at psychiatric hospital visit
R: Volunteers Abe, Jannica, Mykhailo, and Yuliana at Food for Life kitchen distribution
Activities This Month
Children's Camp for Displaced Families: Over the course of 3 weeks in August, a group of local volunteers led by Alla Ponomarchuk of Plich-o-Plich (Side-by-Side) created an extraordinary experience for children of families who have fled war in Mariupol, Donetsk, and Kherson. Displaced for many months now, these kids were taken to a suburban home in the Odesa area and were treated to good food, given swimming lessons, taught games, and taken on excursions to parks, beaches, and more. With the support of a donor from the UK, we were able to fund one of their excursions to an aquarium experience. Several of the volunteers who work with me (from Sweden, Israel, and the Netherlands) helped washing dishes and giving lessons. And I myself taught English lessons most days for an hour or two! I really enjoyed getting to know these kids and working with the excellent volunteers running the camp.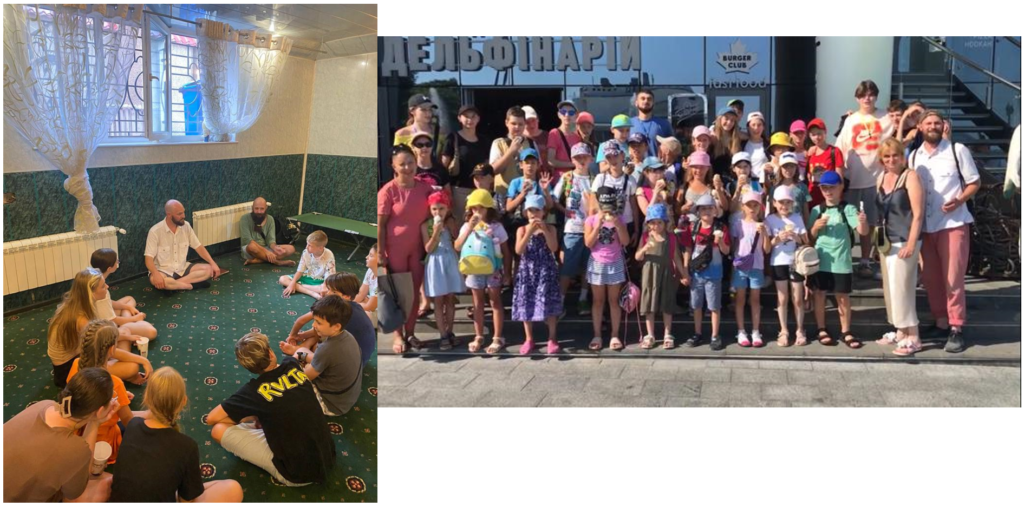 L: Abe teaching English with volunteer Artsiom from Israel
R: Kids thanking donor Paul from UK for trip to aquarium experience
Food for Life Kitchen: A new project in our portfolio of options for volunteers, the Food for Life Food Kitchen is run by the Hare Krishna group here in Odesa and provides daily distribution of food to displaced and homeless persons as well as occasional food runs to at-risk populations in Kherson, near the fighting. A volunteer from Sweden, Jannica, has been extremely supportive of these good people, and I and other volunteers have joined her cooking, cleaning, and distributing food many a day.
Everyman Psychological Support Group: Many of you will remember Ben Allen, a UK-based volunteer who set up an every-other-week discussion group here in Odesa for men's mental health. Ukraine-based coordinator Maksim continues to hold these discussions, and I attend regularly along with other community members. Our numbers are small at present, but we hope with consistency and practice to grow our little community and support each other through these hard times. I have grown to love the vulnerable conversations we have there.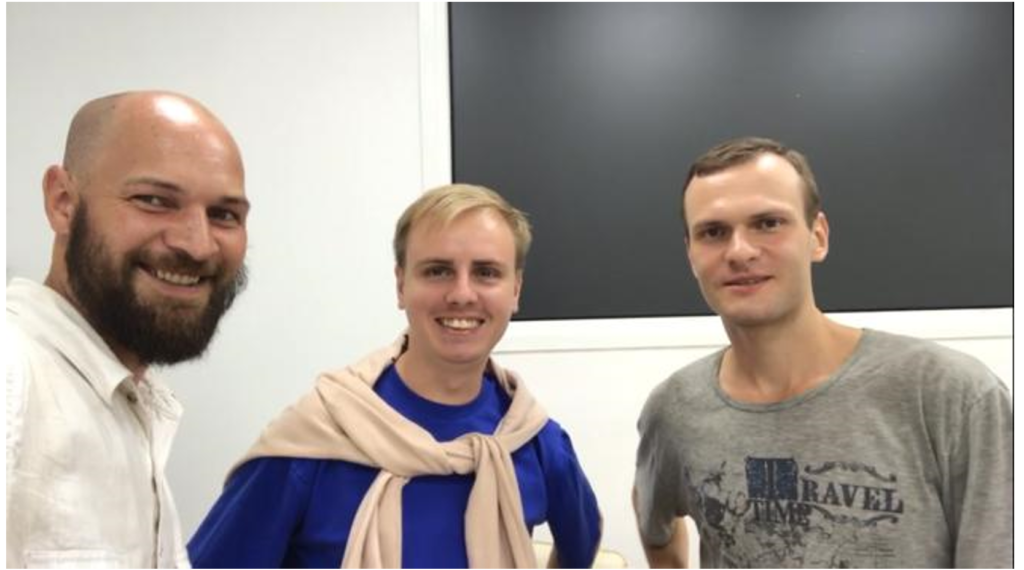 Three faithful attendees of the Everyman support group: Abe, Maksim, and Mykhailo
Psychiatric Hospital Weekly Distribution: As always, the distribution of fruit and sweet biscuits on Saturdays continues at the Odesa Psychiatric Hospital. Many small miracles have happened to allow us to continue funding this project despite a lack of regular funding (and many of those miracles have been you, my friends and donors). Over 20 volunteers from nearly as many countries have participated in this project over the last 9 months, and the patients at the hospital have come to look forward to our visits as a light in an otherwise difficult existence. The nurses as well have become our friends, for the most part, and frequently help us wash and distribute fruit. This is place in particular is one where I feel Dignity Aid International has had a really remarkable influence in spreading compassion and hope—a bleak starting point, but genuine progress.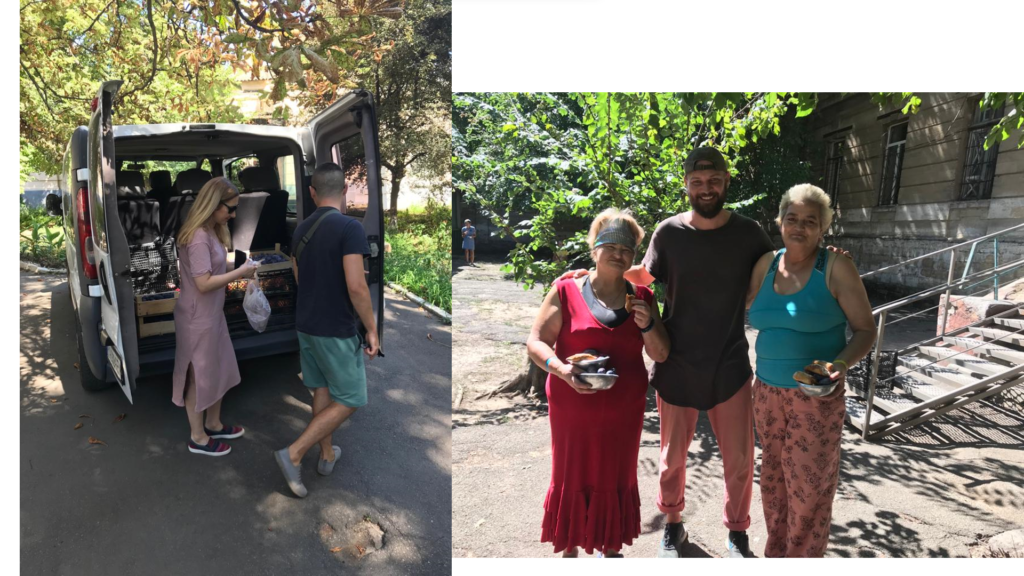 L: Fearless leader Elena and professional driver Dima prep for distribution
R: Abe with patient friends in the women's department
Other Local Projects: With Swiss partners Human Front Aid and local partners Plich-o-Plich (Side-by-Side), Dignity Aid volunteers have helped provide cash assistance to hundreds of families fleeing war in the eastern and southern areas of Ukraine. The money, donated by individuals in Switzerland and elsewhere, is hugely appreciated and we're so glad we've been able to help with this project. Plich-o-Plich is also running a shop with free humanitarian aid (toilet paper, bags of rice, clothing) distributed by through points system, with many of the ideas and systems developed with the help of Dignity Aid volunteers. I've also been helping local partner Manifest Mira to communicate with donors, editing documents and drafting reports when necessary. And I've even helped out a local English-teaching organization called "Speak Up Odesa" (shout-out to Mark Hodgkins for this connection), where Dignity Aid volunteers could give additional service hours if they're free.
Dignity Aid Project Planning & Registration: Finally, for the brave of heart still reading, we plug away at registration and project planning for this Dignity Aid International non-governmental organization (NGO). Just today I sent off a number of documents for registration in Virginia, where our headquarters will be located for tax purposes thanks to the untiring efforts of Michael and Emily at Troutman Pepper law firm. Also today, I pitched an idea for a traveling humanitarian shop which could provide small amounts of aid in the "free shop format" to rural areas struggling during the war. I'm hopeful that we'll continue this little seed into a full-fledged tree one day, and for now, we keep helping out where we can! Your donations and support are so appreciated in that effort.
Conclusion
Surely you remember some morning, not so long ago perhaps, when you sat alone in the morning darkness and listened to the singing of birds. They knew the dawn was coming. Perhaps you were even awakened by them, and you sat for a few minutes, wondering why they sang. Then the horizon began to glow, and slowly, the walls of your room or the leaves of the trees became ever more visible. Then, as it has every morning for 4.5 billion years, the sun peeked over the horizon of this beautiful planet. You, and I, and all of us who care for this earth and for the creatures who inhabit it—we are the birds. And we will sing, until the dawn appears. Thank you for caring.
With Love,
Abe Collier
Dignity Aid International
*****
This email was sent to a private email list of donors and friends of Dignity Aid International. If you have received this email in error or wish to be removed from the list, please reply "STOP" to [email protected].