Donor Update, Wks. 13-15: A Wizard is Never Late…
"…nor is he early — he arrives precisely when he means to."
      - J.R.R. Tolkien, The Fellowship of the Ring
My dear donors and friends,
I occasionally comfort myself with those words spoken by Gandalf at the beginning of Tolkien's classic. And as the weeks slowly slipped by since my last update, they came to mind frequently. Being in Moldova, I wanted to use some of my time off to write a profound meditation on the war in Ukraine and the humanitarian response. But of course, expecting oneself to write something profound is a surefire way to induce writer's block. Then I returned to Ukraine at the beginning of the month and hit the ground running, holding meetings, making plans, and supporting several distributions. Now it has been almost a month, and I am back in Muzykivka, where I wrote my last lengthy update. So we'll pick up the story from there. But first, a budget report.
Budget
A big thank you to The Merch Republic for their large donation last week, which paid for the materials for another distribution in Muzykivka (more below). Also a huge thanks to several donors who have given generously in the past several weeks — I receive enormous gratitude from so many here in Ukraine and can only try to convey it here and on social media.
Of $7,396 collected ($4,718 on Fundly, $2,678 on PayPal), we have distributed $4,754.56, receipts for which can be found on our website at the following link:
(And special thanks to Britton Walker for reorganizing this Expenses page into a more readable format this week!)
Week 13: Visits, Vacations, and a Visa
After a big push to get operations started in Muzykivka, my two weeks in Moldova were a welcome rest from the intensity of humanitarian work. While waiting for my humanitarian volunteer visa to be processed, I was able to visit with many friends from my months volunteering in Moldova before I went to Ukraine. My brother Jon was able to visit Chisinau while I was there and we had a lovely time visiting museums, parks, and old friends at Refugee Support. My dear friend Constantin hosted me for many days in his beautiful apartment on the outskirts of Chisinau and we discussed philosophy, watched TV, and caught up on life. I met volunteers from the excellent Lifting Hands International, which is opening a new humanitarian center in Moldova. I ate Georgian food, Moldovan food, and pizza. I couldn't have asked for a better time.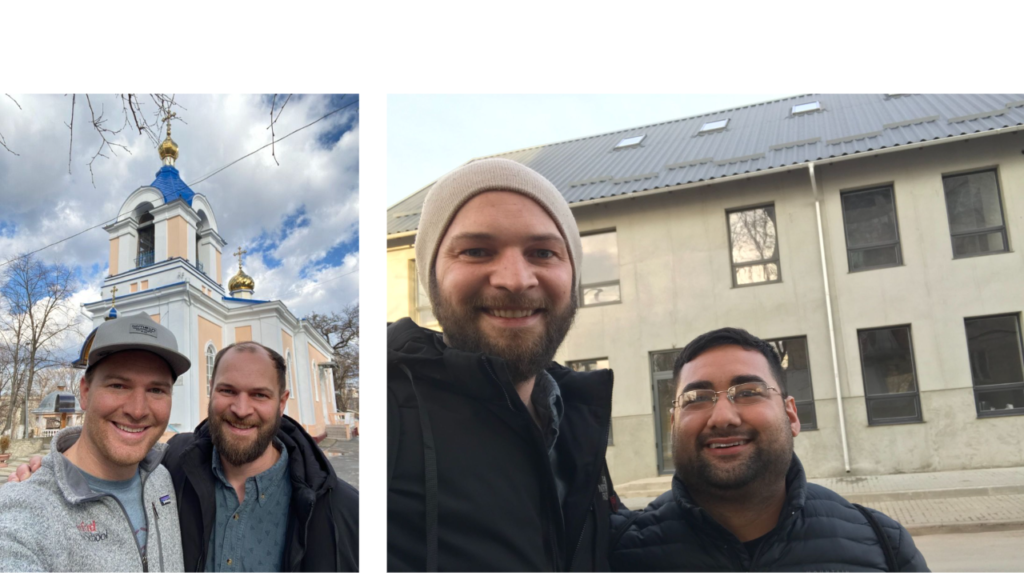 Still hard to believe that my brother made it to Eastern Europe… and that I met an LHI volunteer from Utah!
The visa process itself was made brilliantly simple thanks to the efforts of volunteer partners in Ukraine and the excellent embassy staff in Balti, Moldova. Everyone was generous with their time and expertise, and on March 1, I returned to the Moldova-Ukraine border and was back in business!
Week 14: Return to the Cause
The route from Chisinau to Odesa is an old friend by now, and the feelings are similar each time. As we roll past flat fields, the calm normality of peaceful farming villages fades and a sense of urgency slowly arises as the apartment blocks and busy streets of Odesa come into view. Ukraine is at war, and while Odesa is far from the front lines, the reminders are ever near, with checkpoints, soldiers, and hurried glances from passers-by.
My first week back in Ukraine was occupied with meetings and plans, setting the groundwork for a restart of many former activities as well as some new projects (more below). It was just good to be back in the flow, to hear stories from friends which had occurred while I was gone, and to be back in Odesa eating hearty Ukrainian buckwheat and pickled cabbage once more. I was also able to go with old volunteer friends on the weekly Odesa Psychiatric Hospital visit, shaking hands with and distributing little cookies to patients whose world has become very small thanks to the mental health issues which are so prevalent in our modern world, but particularly in time of war. Many there are displaced from Kherson region and other areas near the front lines, having to cope with such changes without the psychological tools which less neuro-divergent folks have at their disposal, and I am grateful to be able to serve them in any way possible: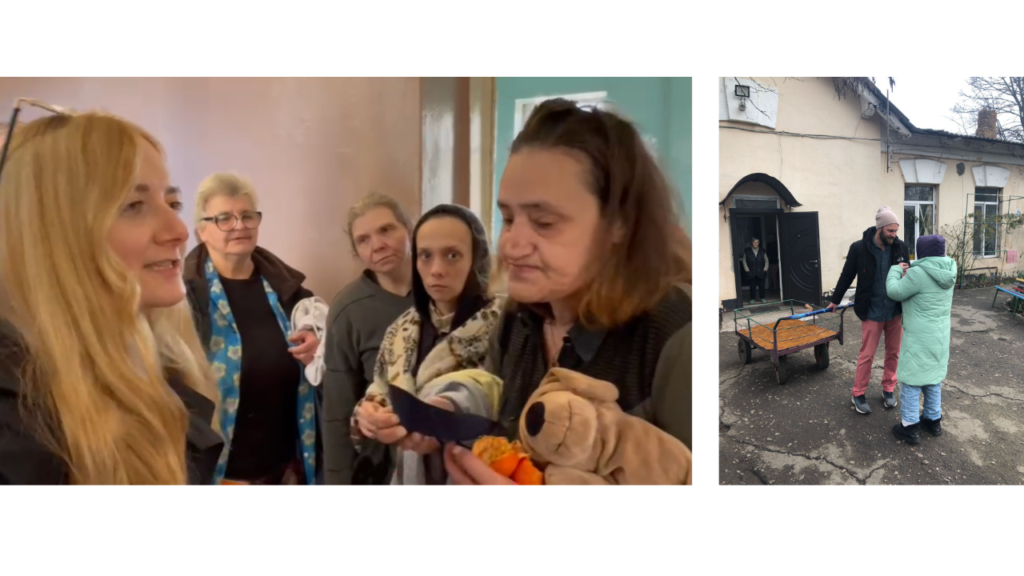 Week 15: Dignity Distribution in Muzykivka
From Odesa I proceeded down to Kherson Oblast, to the dear village of Muzykivka, which lies out of reach of Russian artillery but close enough to the front lines to be in constant need of assistance. Occupied for 8 months by the Russians and suffering from the economic devastation wrought by proximity to war, the people of this village have nevertheless been generous with their time and love to help me reach hundreds of their friends and family with simple aid: toilet paper, dish soap, nails and screws, blankets, whatever we could bring was shared with the people of the village in as fair and collaborative a way as possible: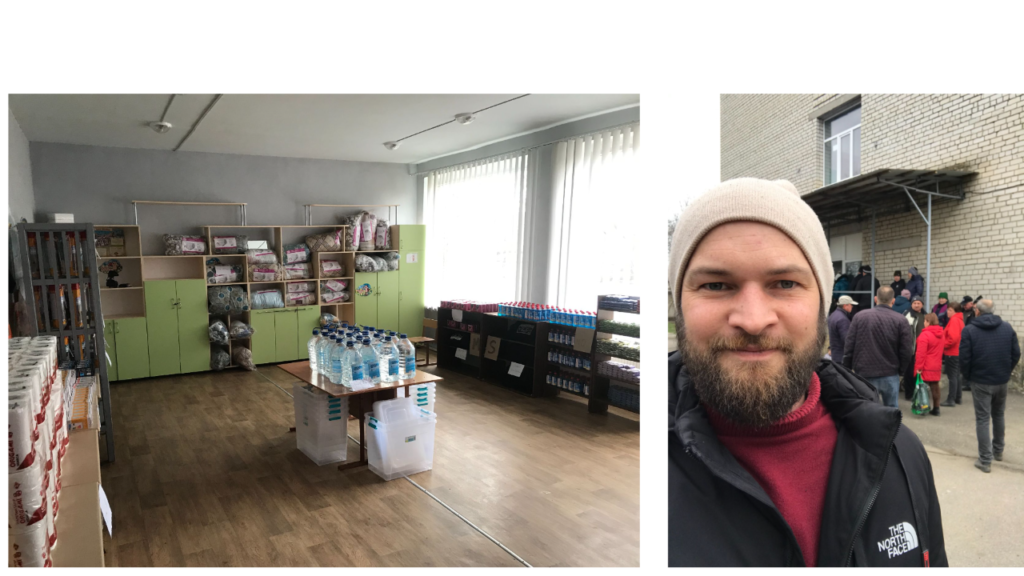 The distribution center was organized, with the help of wonderful local volunteers… and the next day, people showed up!
Particular thanks go out to The Merch Republic and Help.UA.People, who provided the funds for the materials for this distribution, and to Plich-o-Plich in Odesa, who helped us make the connection in Muzykivka in the first place. Speaking of Plich-o-Plich, Week 15 also saw continued discussion with these good folks about a variety of projects, from the refurbishment of their new humanitarian center in Odesa to the distribution of construction supplies south of Mykolaiv. I appreciate everything this organization does — they are extraordinary in their dedication, particularly as they operate almost entirely on a volunteer basis. My heart goes out to every Ukrainian man, woman, and child affected by this war. I have been so impressed by their brave and noble response.
Overview of Current Dignity Aid Projects
With almost four months of operations under my belt in Ukraine, I thought I'd give a quick summary of the current projects we're undertaking in the southern region:
A humanitarian center in Muzykivka, Kherson Oblast, where we do semi-regular distributions of hygiene and construction items to inhabitants of the village and the surrounding area, including those displaced by the war. We also help coordinate the activities of larger NGOs wishing to operate in the area, e.g. the US-based International Medical Corps (IMC), who are actually working with me on a distribution this week.
Advisor role to a volunteer group which supports the Odesa Psychiatric Hospital, where hundreds of IDPs from Kherson Oblast have been relocated recently. We regularly visit the patients with them on Saturdays to distribute small food items or larger donated materials and support them with small donations as needed. They are in the process of applying for larger INGO grants and we have also advised them on this process.
Advisor role for several small local NGOs in the Odesa and Kherson regions, particularly Plich-o-Plich, where we advise on budget proposals, activities, and help coordinate communication with donors in Europe.
Reflections on the Situation in Ukraine
While I was in Moldova, the Feb. 24 anniversary of Russia's full-scale invasion occurred. As mentioned above, I thought I would spend that vacation time writing a profound meditation on this last year of war, which promptly induced writer's block, and now I've put it off for three weeks. Yet I don't want to give up. I feel there is something that needs to be said.
Perhaps it is simply that there is purpose in this fight. Sometimes the images of senseless violence which flood our news channels make us feel hopeless about the current war or even about the plight of humanity as a whole. And there are certainly those in Ukraine (and many elsewhere) who think this war is leading to nothing but pain, that it is simply another power move by US imperialists to cement their position of leadership in the world, or that is simply delaying the inevitable Russian domination of this region, at the cost of hundreds of thousands of lives. All of that may be true.
But it is not my experience. What I have experienced, instead, is the extraordinary spirit of solidarity and freedom shaking the dust from its long hibernation in the hearts of millions of Ukrainians. Ten years ago, when pro-Putin oligarchs largely ran this country and the post-Soviet growing pains were at their worst, many Ukrainians felt that they were better off before independence. Now, spontaneous volunteering has become a culture across the country. Thousands of veterans have come home with renewed respect for their fellow citizens from Lviv to Donetsk and Kharkiv to Odesa. Ukrainian has become a shared language rather than a point of contention for native Russian speakers. And the presence of thousands of volunteers from Europe and North America in the country (and millions of Ukrainian refugees in those countries) have bound us together in bonds of love which spread far beyond the borders of Ukraine.
That, then, is the purpose I see in this fight. And even if the war ends tomorrow, even if Ukraine is forced to accept the borders as they stand today, even if Russia continues to oppress millions in Crimea and the Donbass, I will consider this an extraordinary accomplishment of humanity. We have come together in love, imperfectly, hesitatingly, even reluctantly at times. But we have managed it. It gives me hope for Belarus, for Taiwan, for Myanmar, for El Salvador, for Congo, for Palestine. May we one day bring peace here, there, and everywhere.
Dignity Aid Blog: More Donor Updates Online
The updates from weeks 9-12 have been added to our blog at the following link. Feel free to share the website with friends and family or to forward any of these emails.
https://dignityaidinternational.org/category/blog/
And don't forget to follow us on Facebook or Instagram for regular updates if you're interested!
https://www.facebook.com/profile.php?id=100088706011031
https://www.instagram.com/dignity.aid.international/
Sending love to all,
abe