Donor Update, Wk. 9: A Bit of Earth, To Make it Grow
Sent 2 February 2023
Dear donors and friends,
It was, quite simply, a week of miracles. Last week I wrote with some trepidation about an upcoming journey to Muzykivka, in Kherson Oblast. I stayed in that village for two nights and was absolutely floored by the generosity of my hosts, as well as the series of fortunate events which flowed therefrom. It feels, like Sarah's "bit of earth" from the beautiful musical 'The Secret Garden', like a place where we can plant something beautiful and rich and make it grow. I am actually writing this email from Muzykivka again, having undertaken another trip to plan out our upcoming distribution here, but I will leave that story for next week, as current events are still very much unfolding. For now, greetings from Ukraine. It really was a good week.
Budget
Of $4,818 collected so far, we've spent $2,341.15, receipts for which can be found on our website at the following link:
The only purchase this week was for fruit and cookies for the Odesa Psychiatric Hospital, though we did distribute more than $200 worth of hygiene items in Muzykivka and will be able to use every dollar donated to help in that part of the world, close to the front lines and full of people struggling with shortages and the fallout of conflict.
Activities
On Monday morning, I departed for Muzykivka. It would be the first time I stayed the night in Kherson region ("Oblast"), where the distant booms of cannon can occasionally be heard and where tensions can run high at checkpoints and elsewhere. But I was absolutely blown away by the hospitality of the people in the village. I was able to bring needed hygiene products, thanks to you wonderful donors, as you see in the picture on the left below. And on the right is my friend and partner Vasilii, an art teacher and administrator at the local school before the war and now a coordinator of local volunteers and humanitarian response. He has been absolutely instrumental in helping me identify the needs in the area, find a place to start distribution, and even find a place to live in the village (the second story of the building behind us is where I'm writing this email from now).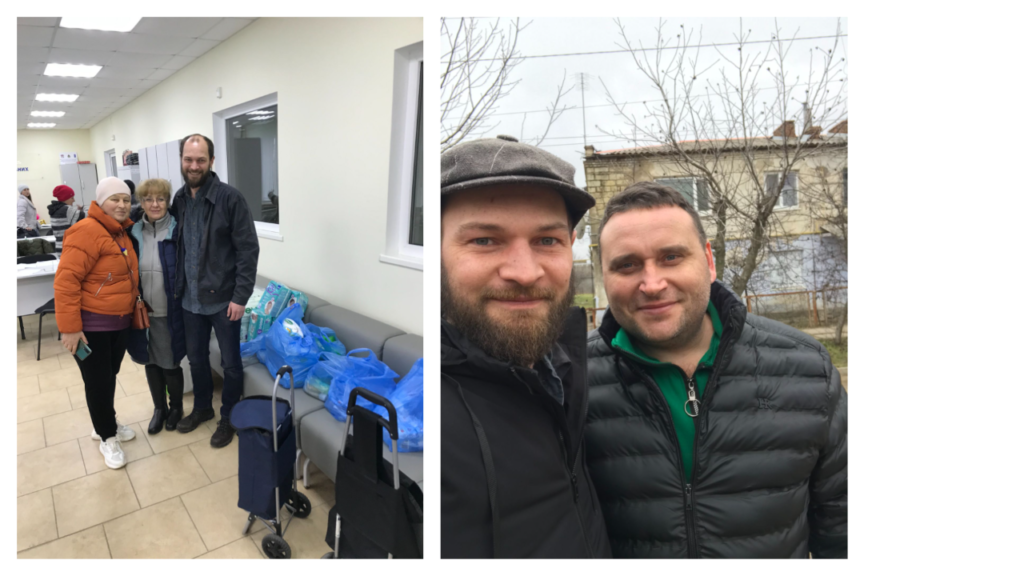 I left Muzykivka early Wednesday morning with a list of needs in hand, compiled by local volunteers in the area. With that list I stopped in Mykolaiv, a large port city on the Black Sea, at the local "Epicentre," which you can imagine like a combination of Walmart, Home Depot, and IKEA — absolutely massive and containing almost everything you could want for humanitarian aid, from toilet paper to blankets to plywood sheets. A kind employee there, Alexander, was able to translate for me and we priced many of the items we would need. Thanks to the offer of a generous donor in Germany, who visited Ukraine just a few weeks ago and will be coming again next week, we were able to commit to a large amount of materials and I look forward to seeing what distribution looks like, probably around February 8!
With the exception of the regular hospital visit on Saturday, Thursday through Saturday were dominated by volunteering at the new office of Plich-o-Plich, a group of locally based humanitarian volunteers who have become my primary partners in Odesa. Over the past year, they have coordinated evacuations of people from Kherson and other war-torn regions, have identified housing for many of those forced from their homes, and have provided aid in the form of food, clothing, and cash for hundreds of people in need. I have been so impressed by their work and have been able to put some of my construction experience to good use in helping them remodel an old cafe into a humanitarian center. I've also enjoyed picking up a few words of Russian and Ukrainian here and there and just spending time with generous people.
Saturday's visit to the psychiatric hospital was full of warm smiles and blank stares, as usual. It is so interesting to see how "with it" some of the individuals there are, whatever their diagnosis may be, and how much others struggle to even recognize us on a week-to-week basis. One sweet experience — as a local volunteer translated for me, one older woman said to us, "I was worried that you wouldn't be coming anymore. I'm so glad you came." In that moment, I too was glad we came. However long we are able to make that project last, I am glad to be a part of it.
Sunday was snow, in beautiful deep drifts which Odesa rarely gets. Like all snow in cities, it was soon more brown than white, but the magic takes a few days to fade. Then off to help again at Plich-o-Plich's new office (more on that next week), during which time they confirmed that they would help me apply for a longer-term visa to stay in Ukraine through the summer or autumn. My tourist visa will expire this month, so as long as I am able to continue collaborating with the good people at "Shoulder-to-Shoulder," they are going to try to sponsor me for a longer stay. My hopes are high for the process.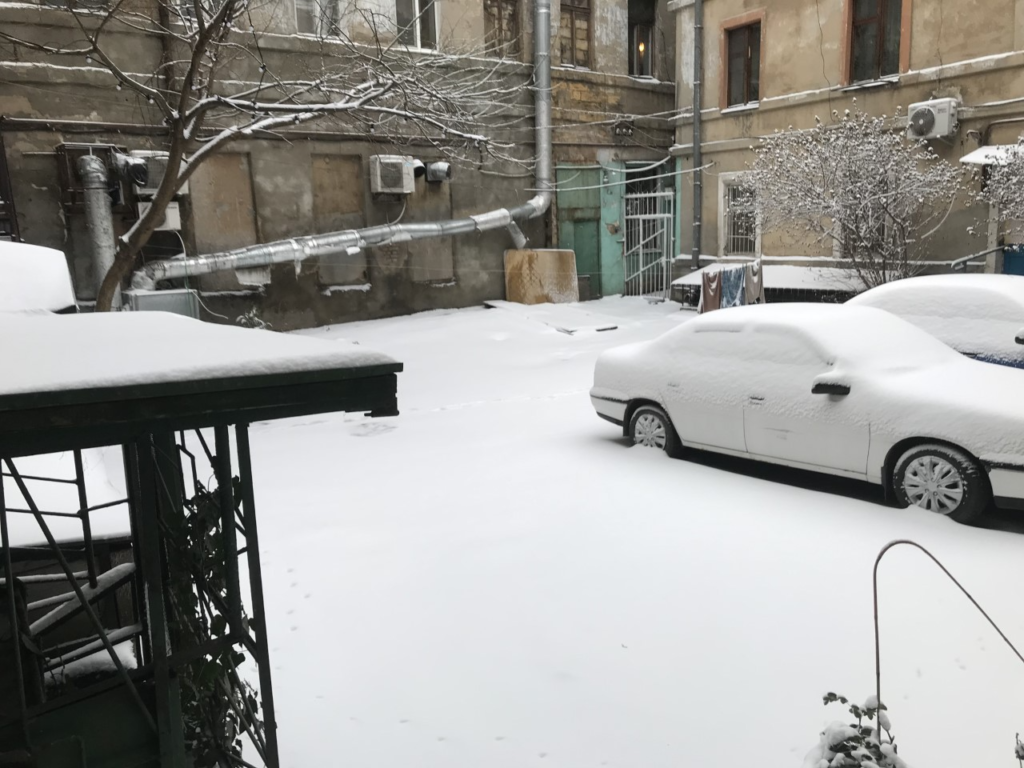 Dignity Aid Blog: More Donor Updates Online
The update from week 8 has been added to our blog at the following link. Feel free to share the website with friends and family or to forward any of these emails.
https://dignityaidinternational.org/category/blog/
Spring is coming. We have made it through the winter. Beautiful winds are in the air. Sending love.
abe