Donor Update, Wk. 10-11: The Sky's the Limit
Sent 15 February 2023 –
Dear donors and friends,
Yesterday was simply breathtaking. Over the course of three months, with the help of countless individuals, with constant effort, and by the grace of providence, we marked the opening of a humanitarian distribution point in Kherson Oblast by distributing aid to more than 550 individuals in one day. On a Tuesday in February, just 10 days short of the year anniversary of the beginning of the 2022 full-scale invasion of Ukraine, we hosted a village whose people had been scarred by eight and a half months of occupation by hostile Russian forces. It has required my utmost efforts to reach this point, and I apologize for missing last week's donor update as a result. Yet I think it was worth it. You, each of you, by your support and love, have helped make this possible. I could not have done it without you. Following is an attempt to map out the road to Muzykivka, along with all of the other activities of Dignity Aid International over the past few weeks.
Budget
Of $5,024 collected so far, we've disbursed $3,072.64, receipts for which can be found on our website at the following link:
A special thank you goes to the charitable fund of The Merch Republic, a German company selling custom-branded clothing and products headed by Kahrsten Fuhrken, who donated about $7,000-worth of humanitarian gooda purchased for the center in Muzykivka. In coordination with Help UA People, a charity founded by my dear friend Pelle Tranberg, and with the help of many private donors, The Merch Republic has donated tens of thousands of euros to aid various charitable causes in Ukraine, and I am honored to be among their partners.
Another special thanks goes out to the International Medical Corps, an American non-governmental organization with charitable operatons around the globe. This week they donated several tons of humanitarian aid, worth thousands of dollars, for the Odesa Psychiatric Hospital, where I have volunteered each Saturday for many weeks distributing small gifts of fruit and cookies. Thanks to your donations, we were able to cover the cost of shipping for this contribution ($375), and with the help of local friend and volunteer Elena Oiberman were able to distribute to the residents of the psychiatric hospital. They will be receiving 2 boxes of medicines, 14 boxes of adult diapers, a full pallet of potatoes (cooked by local volunteers), and even two beds!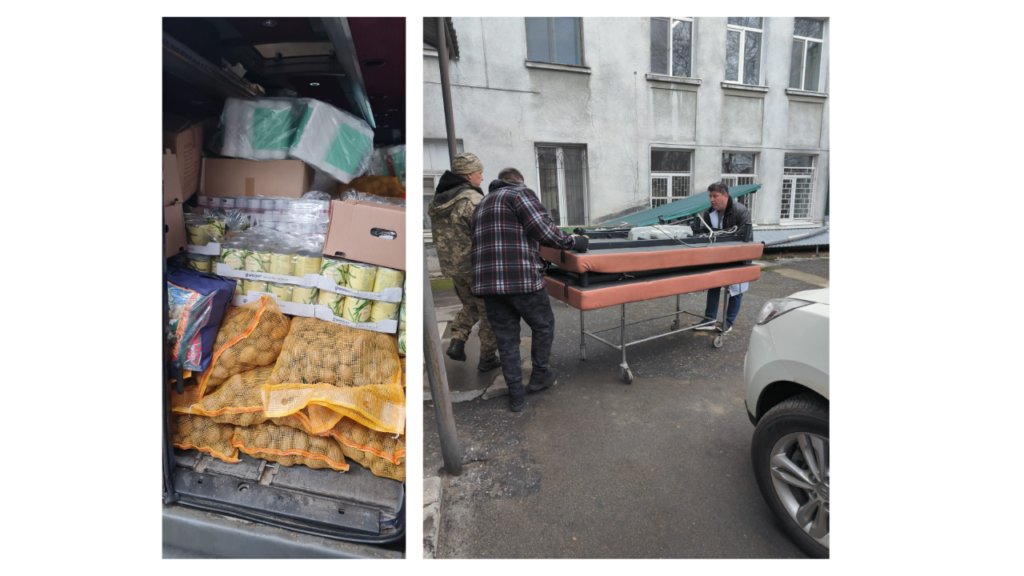 Other expenses for the last two weeks were limited to fruit and cookies for the psychiatric hospital, where we performed our weekly visits and felt an air of peace that we have rarely felt, as well as ~$100 for the services of an excellent translator for two days while we purchased the goods for Muzykivka and established the groundwork of the center there. I received so much more help in the last few weeks, but all of it was given freely and with open hearts — setting up the shop in Muzykivka, distributing food at the hospital, coordinating my visa application (more on that in a moment). I am just grateful.
Activities
I'll pick up the story a few weeks ago, when I was writing from the village of Muzykivka (which actually does mean "Village of Music," just as it sounds). For those of you who know and love the musical 'Fiddler on the Roof', you will understand why I have started to insert the name of my little Slavic village in place of "Anatevka" from that beautiful song of exodus which closes that show — "Muzykivka, Muzykivka, intimate, obstinate, Muzykivka, where I know everyone I meet…"
This little town became the focus of our efforts thanks to a series of fortunate events. Draw the thread back to December, when my friend Pelle came to town. He and I became connected through the organization of Refugee Support, with which I volunteered in Greece in 2017, in Bangladesh in 2018, and in Moldova in 2022. We bonded over a deep appreciation for the humanitarian model of this organization, which prioritizes dignified distribution of aid in a shop-like format. Pelle and I discussed where the right place might be to establish such a humanitarian center, and he suggested that his local partners at Plich-o-Plich (Shoulder-to-Shoulder) might be able to help us identify a location between Odesa and Kherson, where the need is greatest thanks to the previous occupation of Russian forces. With their help, we zeroed in on Muzykivka, which is far enough from the front lines to be safe from shelling while close enough to provide substantial aid to affected populations in various war-torn areas. From this village, in addition to our local distributions, we have already been able to provide building materials for construction teams near the front lines repairing windows and other results of Russian shelling. We hope that it will be a boon for the entire area.

That brings us to the past week, when a flurry of efforts led to yesterday's distribution, with more than 550 people served and more than $4,000 dollars worth of goods distributed to local households. It began with purchasing and transporting the goods from Mykolaiv, a city in southern Ukraine safely away from the front lines, which we did in a huge truck… which was brought all the way from Berlin by Karsten Fuhrken and his friend Robert! It was truly epic to see them driving this truck, purchased in Germany with donations from generous friends, and which they are leaving with Plich-o-Plich in Odesa for the humanitarian effort. Everything was unloaded, organized, put on shelves, and then yesterday we organized the hundreds of people in line for a safe and dignified distribution, resulting in a calm shop experience for hundreds of villagers craving normalcy in a time of war: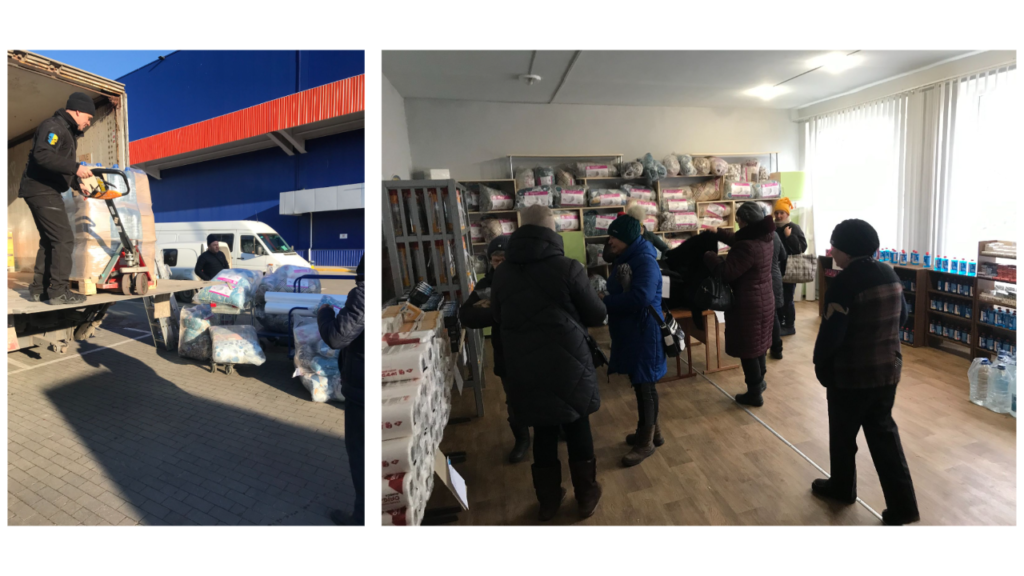 In total, we distributed:
50 sq. meters of construction film
22 plastic storage boxes
80 5L bottles of water
100 4-packs of toilet paper
150 bottles of dishwashing soap
25 packs of sanitary pads
65 bottles of expanding construction foam
35 bags of nails
43 boxes of screws
240 bars of soap
222 light bulbs
24 blankets
40 sweatshirts
All of this would have been impossible without the help of local volunteers, who spent hours helping us arrange the materials and coordinate the distribution, including my dear friend Vasilii in the picture below, a volunteer coordinator in Muzykivka. The people of Ukraine send their love to America and Germany (and to the UK, and to Moldova, and to everyone everywhere who has contributed to this enormous project) —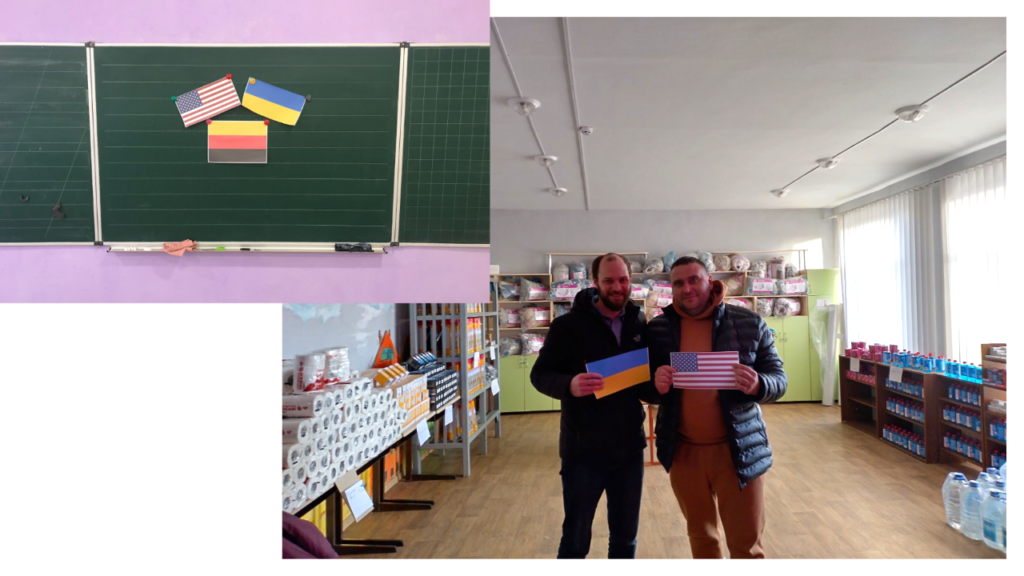 I hope to continue this work here in Muzykivka and across the south of Ukraine. Tomorrow I am headed to Moldova to renew my visa, which will hopefully be a quick process, with the invaluable help of Plich-o-Plich and friends here in Ukraine. I will keep you all updated on developments. Together we stand.
Dignity Aid Blog: More Donor Updates Online
The update from week 9 has been added to our blog at the following link. Feel free to share the website with friends and family or to forward any of these emails.
https://dignityaidinternational.org/category/blog/
All of this would have been impossible without the support and love we here in Ukraine have received from across the world. We are all connected, in mysterious and beautiful ways. Sending love.
abe